May 29 2020
How Ledger Harnesses Color in UX Design
It's about time we formally introduce you to our good friend, Roy G. Biv. We're sure you've met. Color is a fundamental component of design, whether we're talking McDonald's famous golden arches, that tennis game on your phone you just can't stop playing, or anything in between. Color in design works. And color in UX design works wonders.
The beige and blue walls at the dentist's office calm us before we go in for that root canal. The yellow wall accents or red punching bags give us energy to push out (or punch out) just one more rep in our morning workout. Color literally makes us feel. And no doubt, the simple use of color can transform your experience with your software applications from a good one into a great one.
Or, color can ruin your user experience. And we've all been there, squinting and struggling to make out a word, or wondering why an unassuming hyperlink was highlighted in a blaring bright pink.
CRMs: A Failure of Color in UX Design
Sadly, the story of color in the UX design of some of the most popular CRMs reads about the same as the story of most CRMs developed the traditional tech route. We've written about it before, but the summary is this:
Company develops product.
The company launches product.
That company makes small changes or add-ons to the product.
Product stops serving the needs of the customer or becomes bulky and hard to train.
The same thing goes with design. Some of the biggest CRMs that have been around for 15-20 years still look stuck in the early 2000s. Data is often displayed like it's an Excel spreadsheet, and not even one of the pretty ones! Black or gray text on white backgrounds, whether you're looking at a customer's phone number or trying to navigate to sales call information. That's not just boring, that's downright detrimental to your users.
Making the Case for a Colorful CRM
Ledger is designed to be visually engaging and make data digestible, leads easy to interpret, and basic navigation intuitive. And a big key to that is how it uses color. We're not going to take this time to explain every color choice and what it means, because color theory is, well, sometimes kind of boring. We'd recommend checking out a nice explainer like this one, instead.
Instead, we want to explain why Ledger deploy color where it does, and how color helps users not only learn Ledger fast (we're talking minutes here), but increase their productivity and their ability to draw powerful insights from data.
Color Tells You Where You Are
Simplicity is at the core of Ledger's design. Which means adding a simple, visual component to many of the cues we'd normally use to do our work—namely, reading. To be clear here, we're definitely pro-reading. But Ledger adds color to assist its users work and make it a fraction of a second faster at every single click.
For example, take a look at Ledger's client messaging: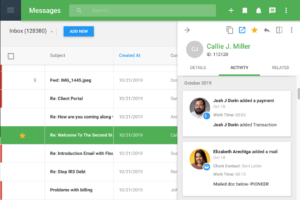 Ledger uses one company email and does all the sorting for you (saving money and providing additional company-wide accountability). So if Karen makes a payment or emails her account manager a question, Ledger will automatically direct that to her account manager. Whenever they check out their messages, Ledger displays and highlights messages in green.
However, should the account manager need to find out some client info about Karen to process her request, they'll visit her page which is displayed in a light blue.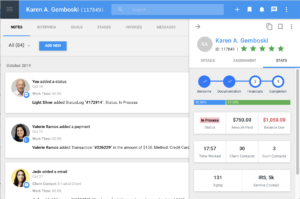 We're not trying to use this example to wow you with our color choices. Instead, we're demonstrating a very simple, basic color cue that is baked into Ledger's design. Color always tells you where you are in Ledger.
Color Makes Data Visual
Ledger works hard so that you don't have to, which means seamlessly pulling, compiling, and displaying all sorts of data in engaging, visual ways. Color is integral to that.
For example, take this Leaderboard: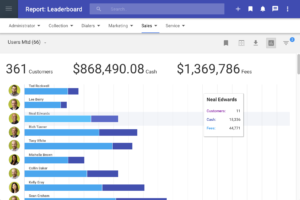 Ledger doesn't leave you with just the numbers. Don't get us wrong, you could get by with just the numbers! If you've ever been in sales, you're probably familiar with the whiteboard in the middle of the sales floor.
That works just fine for some! But you shouldn't be left to interpret data from just the numbers when it comes to your CRM. Simple use of color, like on this Leaderboard, gives you a lightning-fast ability to interpret this sales data. You don't have to click multiple tabs to display multiple pieces of info, or move the data into a spreadsheet. At a glance, you can see who is performing and how, your progress to quotas, and you can more readily support your team members who may be trailing behind.
Powerful data can powerfully impact your company. In Ledger, color makes data easy to interpret.
Color Helps Insight and Interpretation
Ledger can give you just about every data point you could ever want to build your business and support your team and clients. But it has some features that are completely unique, and color just makes them click.
For example, check out this campaign sources report: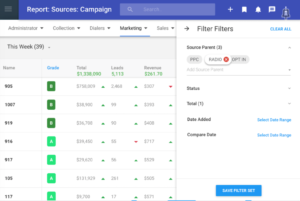 Ledger organizes and displays your sources simply so you can understand which ones are performing and which ones aren't. But in completely unique fashion, it offers GRADES for each source. So, a bright green "A" will tell you in an instant that a specific PPC campaign is absolutely crushing it. But that darker green "B" will tell you your affiliate marketing could use some improvements. With a simple red or green arrow, you can see within a moment that your revenue is up, or down, from a lead. And within a year, you can save thousands on wasteful, ineffective campaigns. Ledger uses color to supercharge your insights.
Color in UX Design: Harnessing the Power of the Palette
So, why does color matter so much in Ledger? Well, because it matters so much in the world around us. Combined with a simple and sleek design and a powerful set of features, Ledger leverages color to make your team's work a faster, more intuitive, and at the risk of sounding trite, a little bit more fun. It's one the many tools we have brought along our journey on the road to simplicity.